Choosing The Right Shingle Color
How to choose the right shingle color for your roof
The roof of your home serves many purposes, from structural integrity to protection to appearance. Naturally, a roof keeps out rain, snow, hail, curious wildlife, falling acorns, and an array of other elements. After rafters are installed and secured, the roof holds it all together and provides lasting and secure protection for your family.
A roof also makes a visual statement and depending on your home's construction layout, its roof may be a main attention-grabbing aesthetic component. Whether your roof is sheathed in traditional asphalt shingles, tiles, or elegant cedar shakes, choosing the right color goes a long way in rounding out your home's look and dramatically boosting potential resale value.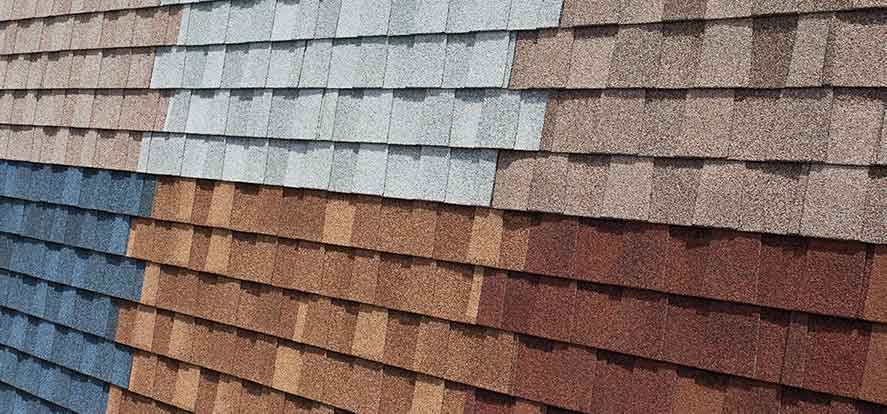 Make Use of the Space
A roof makes up more than half of a home's exterior so this is the time to take advantage of all that square footage with a color that really complements the place where you live. One of the most important considerations is the color patterns of the rest of the house. Are you starting from scratch with an empty canvass? If so, your options are limited only to individual tastes—stay tastefully conservative or think out of the paint can with unique colors and varying shades.
If you have just finished an extensive repainting, there is a vast lineup of shingle styles and colors to perfectly match your home's look and personality. This is the fun part; it's like picking out the ideal suit jacket to go with the shirt and tie. Coordinate shingle color with other colors and attributes of your home, such as clapboard siding, stucco, cement board, bricks, or stonework.
Location Matters
Often overlooked in roof decisions, climate plays a big part. Consider that shingle color can affect temperature in an attic by 40 degrees; that's a big deal in heating and cooling. Go with light colors in hot climates and darker colors in colder regions.
Location in your neighborhood can also be a factor. Homeowners' associations and subdivision groups might have strict covenants regarding everything from roof shape, size, and color.
Think Long-term
Choosing a roof shingle color is a long-term decision. The choice you make today will be one you live with for decades. Take the time to research colors available in your area as well as the current and potential future style of your home. If you're planning a major addition or other update in the near future, don't neglect the final touch on top.
For more expert advice on shingle colors and other roofing information, call Mark's Custom Exteriors at (503) 397-2215.
Author: Angie Holcomb
In late 1993, one year after their marriage, Angie and Mark Holcomb decided it was time to follow their dream, and the couple set out to launch their own business. One year later, in 1994, Marks Custom Exteriors was established, one loving couple, one new truck and a passion for their vision. 25 years and many roofs later, MCE has grown to become Portland's premier roofing company and one of the only Nationally Recognized Roofing Companies in the State of Oregon as a GAF Master Elite Contractor. They remain committed to building lasting relationships with their customers through outstanding customer service, expert craftsmanship, and professional behavior and appearance among every member of our team.